Miami Beach is a paradise that caters to all ages. It's a family-friendly haven where shopping, sports, museums, and beaches converge, offering a myriad of exciting activities to keep everyone entertained. If you're contemplating a family getaway to this vibrant locale, you're in for a treat! Here's our comprehensive guide to the fun-filled, educational, and simply unforgettable experiences you can expect from Miami Beach.
North Beach Oceanside Park: Tranquil and Exciting
Imagine a serene sanctuary where you can enjoy a family day at the beach, building sandcastles, swimming, or peacefully reading a book under the shade of sea grape trees. North Beach Oceanside Park provides such an idyllic setting. A BBQ on the picnic tables offers a bonding opportunity over a meal while the rentable pavilions provide a space for larger family gatherings. The winding paths beckon you to explore the neighborhood while the playground keeps the kids busy and active.
Miami Beach Bandshell: An Open Sky Ballroom
The Miami Beach Bandshell is not merely an open-air amphitheater but a venue that engages the family with its diverse range of cultural events and programs. From live concerts to exciting cultural happenings, the Bandshell promises an enchanting performance under the stars with the soothing ocean breeze and the sway of palm trees setting the mood.
Miami Beach Botanical Garden: A Tropical Wonderland
Venture into the heart of South Beach and immerse your family in the tropical bliss that is the Miami Beach Botanical Garden. Traverse through three acres of botanical beauty, marvel at the diversity of plant species, and educate the little ones about the marvels of nature. The picturesque Japanese Garden with its red bridge and ponds and the Edible Garden boasting tropical fruit-bearing plants are sure to be hits among the kids.
Lincoln Road Shopping District: An Outdoor Extravaganza
The Lincoln Road pedestrian mall offers an exceptional combination of food, shopping, and open spaces for your family to run free. With traffic blocked off, families can roam safely, exploring the myriad of shops, sharing a meal al fresco, and indulging in playful moments in designated green spaces. And don't miss out on the Sunday Farmer's Market or the free seasonal movies at Soundscape Park.
Museum of Illusions: Stimulate Your Imagination
Watch your children's creativity soar at the Museum of Illusions. Over 40 interactive 3D illusions create a playful setting for unique photo opportunities. This space allows families to create remarkable memories, whether you're pretending to fly on a magic carpet, balance on the edge of a skyscraper, or dodge flowing hot lava.
Flamingo Park: A Sports Utopia
Flamingo Park is the dream spot for sports-loving families. This all-encompassing South Beach spot offers a playground, basketball and tennis courts, a football and soccer field, a running track, and even exercise machines. The Aquatic Center boasts a large swimming pool and a water playground for the younger ones, providing a relaxing space for adults to unwind under the umbrellas.
Lummus Park: A Family Playground
Nestled on the famous Ocean Drive, Lummus Park is a family favorite. Spread over 26 acres, this beachfront park offers two playgrounds, outdoor gyms, volleyball courts, and paved paths for walking, biking, or skating. Year-round events including concerts and festivals add to the dynamic vibe of this park.
Scott Cooper Miami Scholarship Tour
Venture into a world of discovery and excitement with the Scott Cooper Miami Scholarship Tour, a unique educational experience in the vibrant heart of Miami. This immersive journey takes you through the city's most iconic landmarks, enriching your understanding of Miami's rich history, cultural diversity, and innovative spirit. From the historic Art Deco architecture in South Beach to the thriving artistic community in Wynwood, this tour provides an opportunity to gain knowledge while experiencing Miami's unique charm. It's an eye-opening exploration that beautifully encapsulates the essence of this dynamic city.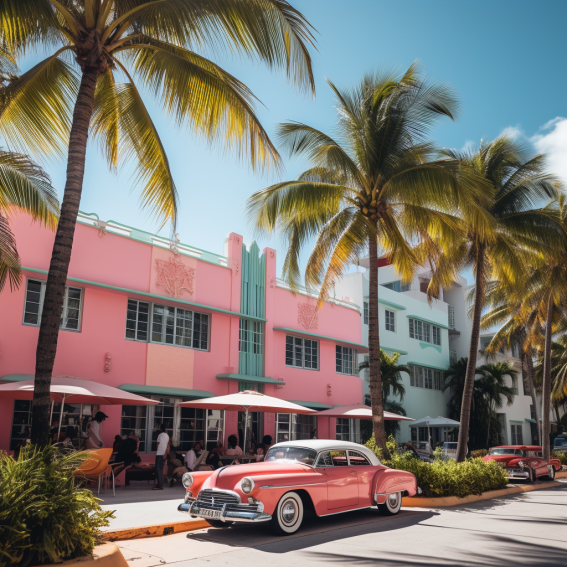 The Wolfsonian–FIU: A Cultural Journey
With The Wolfsonian–FIU, Miami Beach extends a unique cultural experience for families. This space serves as a platform for art and design conversations and is an extension of Florida International University. You can take guided tours, participate in art creation, and engage with the museum's exhibits which explore the persuasive power of art and design. Their special 'Family Days' offer a diverse range of themes that are both entertaining and educational.
Our guide merely scratches the surface of what Miami Beach offers. The city has been beautifully curated to provide families with a harmonious blend of fun, education, relaxation, and most importantly, quality time. So pack your bags, and get ready for the family vacation of a lifetime in Miami Beach.